Successful first season for Stewart-Haas Racing proven by stats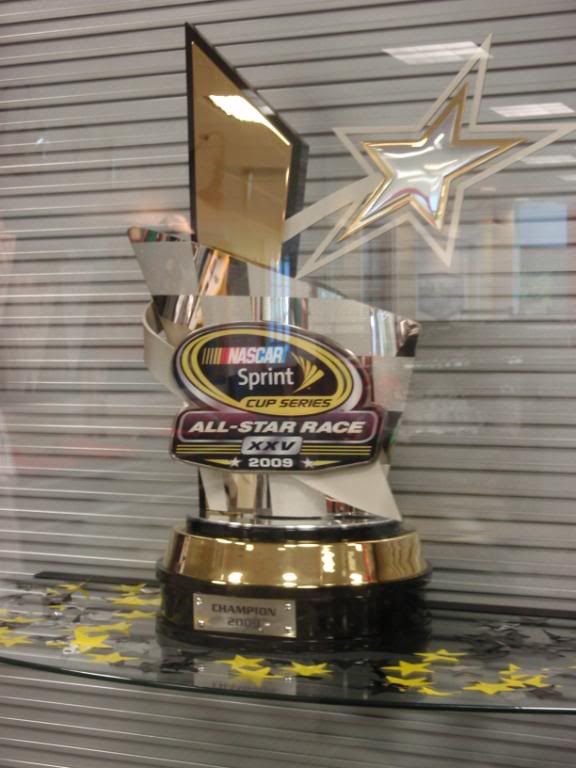 Stewart-Haas first trophy for the team - 2009 All-Star Race
Going into the 2009 season, expectations for Tony Stewart and his new endeavor at Stewart-Haas Racing were fairly low. Actually, the February 2009 edition of NASCAR Illustrated predicted Stewart to finish 15th in the standings, with new teammate Ryan Newman finishing behind him in 19th. No one predicted they would make the Chase, win poles, or even win races. In the end, Tony Stewart and Ryan Newman's first season together at Stewart-Haas Racing was a surprise to most.. in a good way.
Starting out at Daytona, no one knew what to expect from the duo from Indiana. An early practice crash due to a blown tire on the #39 car took out both SHR teammates. After Stewart gave his post race interview, there was a lot of small talk about whether he would revert back to his old ways (he, once again, called out Goodyear for their "horrible" tires). A few days later, during Newman's Gatorade Duel, he got taken out by David Reutimann in the 00 car. In his post-wreck interview he said Reutimann sure knows how to "Root-a-man" out of the way; before that, after he exited his car he went on track and gave David a hands up saying, "hey, what was that all about?". Many people wondered whether this was going to be a tough season for Stewart-Haas Racing, but the stats prove otherwise. (By the way, Stewart finished 8th in the rain shortened 500. Unfortunately, Ryan finished 36th due to

another

accident).

It maybe was a rough start for Smoke and Rocketman at Daytona, but as time when on their improvement showed tremendously. Stewart followed up his 8th place Daytona 500 finish with two 8th places and a 26th at Las Vegas. A string of 5 top 5 finishes in 6 races (a engine problem toward the end of the spring Talladega race gave him a 23rd place finish) showed how strong SHR was becoming. On May 16, 2009, something happened that no one expected. Tony Stewart won the 2009 All-Star race, and brought home a million dollars! In the next 11 races, Smoke racked up 3 wins (including his first points win as an owner/driver at Pocono, and wins at Daytona and Watkins Glen), 4 poles (due to inclement weather only at Pocono twice, Daytona, and Loudon), 8 top 5's and 1 finish of 11th of worse (that was in the Coke 600, also rain-shortened). After the next race at Michigan International Speedway, Stewart was locked into the Chase. He was the first driver to be locked in, and for a whole week he had that to himself. Unfortunately, from Michigan until Richmond when the Chase started, the Smoke had four not so great finishes of 17th, 11th, 33rd, and 17th. It was a great feat in itself to make the Chase, but let's say it wasn't the best Chase he could have had. He was reseeded 2nd to Mark Martin, which was pretty good and had a victory in the third Chase race at Kansas Speedway. During the Chase he had 2 top 5's, 5 finishes of 13th of worse, and two other finishes inside the top 10. He ended up finishing 6th in the standings, 343 points behind Champion Jimmie Johnson. Overall, a great year for Smoke proves he'll be strong next year and his stats prove it.

Now onto Newman. His last few years at Penske have not been the best (he has not made the Chase since 2005), and no one really expected that to change in 2009. He did not have as great of a season as his teammate, but it's still very commendable considering it's his first year in new equipment. Although he went winless in 2009, Ryan captured 2 poles; one at Charlotte for the Coke 600 and one at Martinsville during the Chase. Between Bristol in March and Pocono in June, Ryan had a string of 8 top 10 finishes in 10 races, which includes 5 top 5's (4 straight in a row from Talladega to Charlotte). A couple of finishes of 14th or worse propelled Ryan to 5 top 10's in a row from Bristol in August to Dover. Ryan made the Chase by a good enough margin to make him feel comfortable going into Richmond. Unfortunately, during the Chase he only had 3 top 10's and 1 pole. A horrific crash at Talladega gave him his first DNF of the season, as well as Stewart's. Ryan's voice was heard in many ways when he let NASCAR know about what he thought about cars getting airborn, and the safety factor in NASCAR. That is definitely a crash no one will forget anytime soon. Besides that, Ryan had a decent Chase and finished 9th in the standings, 477 points behind Champion Jimmie Johnson.

There are some stats about Stewart-Haas Racing's first season that may surprise some people. Tony Stewart has the 2nd most top 5 finishes all season with 15, only second to Jeff Gordon and Jimmie Johnson who are both tied with 16 each. Stewart and Newman both only have 1 DNF all season; only David Reutimann, Casey Mears, and Juan Pablo Montoya have been shut out of DNF's this year. Stewart has the third best number of top 10 finishes with 23, third best to of course.. Jimmie Johnson (24) and Jeff Gordon (25). Up until the last race, Tony had the best average finish of all drivers with 10.2, but after his bad finish at Homestead it dropped to 10.4, second to Jeff Gordon. Ryan is not much farther down that list with a 14.7 average finish. Amazingly, Newman and Stewart both have the biggest percentage of laps completed all season, 99.6% (Newman), and 99.8% (Stewart) respectively.

Overall, it is pretty safe to say Stewart-Haas Racing's first season was a huge success- the stats prove it. Both made the Chase, they won races and poles, completed the most laps out of any driver and team, and had only 1 DNF each. Not only that, but their personalities have really come through, and they are having FUN. That IS what racing is all about right? Even though neither won the Championship, or came that close for that matter, they have a lot to be proud of. Next year should be interesting to watch the Stewart-Haas duo in their second full season together.

Photo courtesy of Jenn and Katy from The Biff Files

The opinions expressed in this article are those of the writer and may not reflect those of the site or its other contributors.
Successful first season for Stewart-Haas Racing proven by stats
Reviewed by
tstewartluvr14
on
Wednesday, November 25, 2009
Rating: