Women In NASCAR.....Caitlin Shaw
'Living Her Life with No Regrets '
UPDATE on Caitlin: For info on what she's been upto,
Check out the Albuquerque Magazine's next issue for
article on her and involvement with NCWTS.
November 2010

Meet Caitlin Shaw
On August 28th, 1989 in New Mexico, Kelly and Leslie Shaw became the proud parents of a daughter, Caitlin. Little did they know that Caitlin would someday follow in her father's footsteps and become involved in racecar driving. Caitlin would go along with him to races such as the world famous Chili Bowl dressed in her specially made little fire suit. She would spend time with other children playing while her father would be racing. While supporting her father, she was taking in the sites and sounds of the racetrack. Kelly Shaw raced until Caitlin was 3 years of age. It was at this time her family quit attending motorsports competitions and visiting racetracks.
Caitlin was a very active young girl who was ready to take on a career in racing as early as 9. When most of us were out playing hopscotch or t-ball, Caitlin was working with her father on restoring an old quarter midget car. From that time on, Caitlin has been involved one way or another with racing. It was at this age when she began her to chase her dream of someday being a Sprint Cup champion.
Beginning with quarter midgets, Caitlin began to work her way up. Her very first race was at the ripe old age of 10. After 3 months of practicing in the parking lot of the University of New Mexico, Caitlin and her parents traveled to Phoenix, Ariz. It was there that she would begin her career, working her way up in the Senior Novice Division as a rookie to 2
nd

place. It was then that Caitlin learned that a top 10 was a good place to finish.
>She was not only the youngest driver to race in the mini sprint series, she was the only female driver. After gaining experience in the mini sprint series, Caitlin began her two-year stint in the
USAC

Ford Focus Midget Series. 2007 brought her 29

USAC

races with 14 top-5 finishes, and 10 podium finishes. She won the 2007

USAC

Focus Midgets of Utah Sportsmanship Award. In 2008 she became a K&N Development Driver racing in the

USAC

National Series. In the same year she tested at both Pocono and Richmond raceways in a

NASCAR

Craftsman Truck.
In July 2009, Caitlin made her
NASCAR

debut in the

CWTS

at

O'Reilly

Raceway Park. Caitlin qualified 32

nd

and ended up finishing 24

th

in Tom

DeLoach

's #1 Red Horse Racing Toyota Tundra machine. Caitlin commented after the race, "It was such an adrenaline rush!"
Caitlin's talents don't stop at the finish line. She strives to be the best in all that she does, both on and off the track. When not behind the wheel of her

racecar

, or truck, Caitlin is spending time with family and friends, writing a weekly blog for GirlRacer.co.uk titled

Pitstop

, or co-hosting a radio show at
Blog Talk Radio
. If that wasn't enough, Caitlin is currently the USA Representative and Spokeswoman for Girlracer.co.uk. In 2007 Caitlin became a published author and photographer in El

Tesoro

Literary Magazine. For more insight into this inspiring young racer, check out her weekly blog. She can also be found on Facebook and
Twitter
.

Also, on Thursday, February 4th Caitlin Shaw will be a guest on Summer Dreyer's 'Next Time By' Podcast.

Caitlin's role is USA Representative and Spokeswoman for Girlracer.co.uk. GirlRacer is an online magazine based in England. It works to promote women in extreme sports, including motorsports industry. She works on events as well as writing the
weekly blog
. Caitlin interviews women nationwide in all aspects of motorsports. It's her hope to assist them in gaining international exposure in the USA. Caitlin feels it's a great place for women to come together and support each other.
I recently got the chance to interview Caitlin and found her to be a very inspiring young woman. She's very goal-oriented, with hopes and dreams to one day drive in the

NASCAR

Sprint Cup Series. She is very realistic when it comes to her goals and knows first-hand that hard work and commitment are necessary to being successful in her sport. She is obviously talented and has proven her commitment by moving up in the ranks from quarter midget to

stockcar

racing.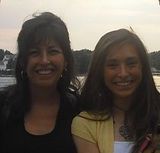 Lindi Bess(LB):What are your thoughts on Denny Hamlin's basketball injury and his decision to finish the season prior to having it repaired?
Caitlin Shaw(CS): "Back when I tore my ACL it probably would have been fine. But I continued to play soccer as soon I fount that now not only my ACL was torn, my meniscus and MCL were torn also. The ACL alone was not too bad. I was able to rehab it regularly and play soccer without much pain. But the additional injuries made it impossible. I agree with Denny's choice to run through to Homestead and then have it repaired. As long as he says off the bball court as well as rehabbing regularly he should be race ready."


LB: Do you have a female mentor or role model?
(CS): "My major female role model has been my mom. She has worked so hard and had to deal with a lot in her life and she still is the one person I know that laughs the most at everything. She's always smiling no-matter what."
LB: As you were growing up, what did you aspire to be and why?
CS: "When growing up, I wanted to be a professional soccer player. I've always been in athletic sports and soccer was my passion. My coach Matt was an extremely influential part of my life and pushed me past my limits on and off the field. I loved the intensity of our training sessions and that we (my soccer team) were all working together to succeed in our goal of reaching nationals. However, I started racing for fun on my off weekends from soccer when I was 9, continuing through middle school. In my first year of high school, I tore my ACL, and had to sit out for the remainder of the soccer season. I still attended all the practices in addition to physical therapy. I decided at that time that I wanted to pursue racing on a national scale and that led me to my interest of competing professionally in the motorsports and NASCAR industry."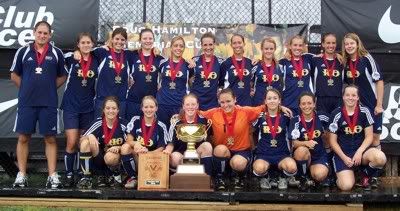 LB: What were your other interests in your school years?
CS: "In elementary school I was involved in a lot of activities. I was in the Girl Scouts, the church choir, dance, gymnastics and cheerleading. When in middle school I focused more on soccer and racing. Eventually, I ended up going to Hawaii with my soccer team for a regional competition after winning State. It was middle school when I began with the QMA (Quarter Midget Association) and my parents were one of the founding families of our local Albuquerque quarter midget track, The Roadrunner Quarter Midget Association. So my time was split between the soccer field and the racetracks. Once I became injured in high school, I began to really concentrate more on motorsports and was competing at the national level in that. From then on I still danced and enjoyed playing soccer, but I followed my new goal of someday competing in NASCAR. This led to traveling in a 24-foot motor home for multiple summers in a row, and getting a lot of quality time with my dad. We would be away from home for three to four months at a time."

LB: What is your earliest memory involving racing?
CS: "My favorite memory was when I was smaller was winning my first race ever. I was competing in Arizona and all I can remember is looking at my dad right after I crossed the finish line — it was such an adrenaline rush."


LB: Was there a moment that stands out when you knew you wanted to be a racecar driver?
CS: "It really evolved from all of my different experiences growing up, but I think the big difference was when I started competing in the Ford Focus Midgets. I loved the competition and working with my crew chief, learning to relay the correct feedback to make the car capable of running in front of the field."


LB: What are your short-term career goals career- and education-wise? CS: "I am currently an undergraduate student majoring in business management with a concentration in marketing. I am taking night classes so I can continue to pursue motorsports. If sponsorship doesn't come through on the competition side of the sport, I would love to get into the public relations or communications industry in motorsports or entertainment. My career goal is to gain sponsorship money to compete in a full season, as well as learning more about the media relations side through internships in my college "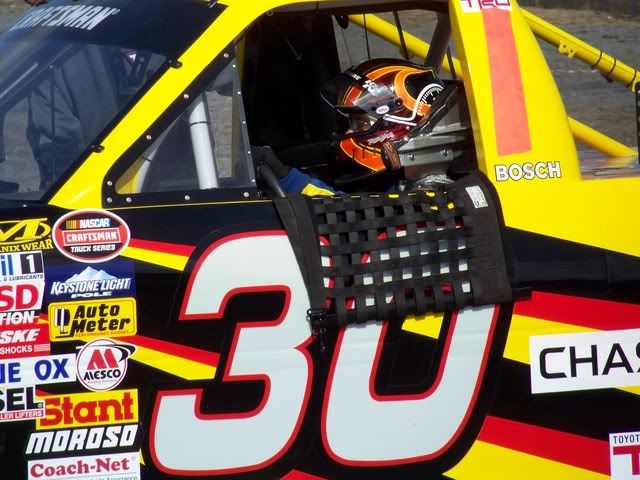 LB: Who are your current sponsors?
CS: "Currently my sponsors are Winder's Community

Healthcare

Service. Jeff Skinner, Shannon Maxwell and William

Shipplett

have all become a part of my race team and I am excited to have the opportunity to work with them. I would also like to thank

Sparco

USA, K&N Engineering and

Piloti

Driving Shoes for their support.

Sparco

has always given me the best equipment and really worked with me to become a part of their racing program and I'm happy to be representing their company in 2010. K&N and

Piloti

are also great companies that have done a lot for the community outreach that I organize."
LB: What are some of the problems that females face when trying to break into

NASCAR

in any capacity?
CS: "I believe that problems breaking into the industry would simply be a lack of experience — for anyone.

NASCAR

is all about the relationships and experience you can bring to the team. People that don't have those experiences are going to have a harder time getting their foot in the door. However, there are great internships such as the

NASCAR

Diversity Internship that create a way for people to step into the industry."
LB: What advice would you give to a young woman aspiring to be a racecar driver?
CS:"You have to put blinders on. People are going to tell you that you don't belong but as long as you can stay true to yourself and focus on your job of competing, you can succeed. My soccer coach used to tell me, "It's the art of never being satisfied" and I still live my life to that today. Don't settle for anything less than your best--give it everything so you don't have any regrets."
LB: What do you do to relax? Where is your "Happy Place"?
CS:"I really enjoy turning up my iPod and just running to clear my mind for a while. However, if I had absolutely nothing to accomplish on a Saturday afternoon, I'd probably start with a run or hike, a drive to the beach to play, go out to dinner (it doesn't really matter where as long as they have pasta!) and then finish the day off with karaoke or watching an episode of 'Glee.' My happy place is spending the day at Disney World because it is after all the 'Happiest Place on Earth.' I could live there!"

LB:What is Caitlin's philosophy or words you live by?
CS:"Right now I'm really trying a 'pay it forward' campaign with myself. I try to help someone else out everyday whether it's buying groceries for someone in line or simply saying how much I appreciate someone. I think we all need to live life to the fullest and part of that is giving back to those around us."


LB:Words of Wisdom? CS:"My words of wisdom would have to be, LIVE LIFE WITH NO REGRETS! Decide what you want and go after it. Don't let anything hold you back and you can achieve anything you work to get. 'It's the art of never being satisfied,' but also taking time to reflect and take in the moment while you are achieving your dreams. Life is a journey and I hope that everyone takes the time to make their journey into something they love."

Currently Caitlin continues to pursue business management and is also working in an internship program with Michael Waltrip Racing. Although Caitlin's race team is not in the same financial situation, Caitlin feels she is learning a lot. This experience can only give her a stronger foundation when it comes to her own race team. In addition she's very excited to be working so close to MWR. Caitlin moved off campus to her own apartment about a year ago. She is very positive in her ongoing quest for sponsorship and is taking it one day at a time. Living her life with NO REGRETS!
__________

Tweeter ColinBraun16fan , Rolando from Harrisburg, VA won a autographed hat from Caitlin. Thanks to all that entered the contest. Look for future contests with upcoming interviews. Next interview is gonna SPIN YOUR TIRES!!

__________

I would like to personally thank Caitlin Shaw for sharing her story with me. I look forward to the day that I see her competing in the Cup Series. To keep current on Caitlin's progress in motorsports, you can visit her Web site:

http://www.caitlinshawracing.com.
All photos used in this article are the property of Caitlin Shaw. Please do not duplicate, copy or use without expressed permission.
Women In NASCAR.....Caitlin Shaw
Reviewed by
Lindi Bess
on
Wednesday, February 03, 2010
Rating: