Racing in Charlotte is always special for NASCAR drivers and teams, it's the hometown of most and that means time off from traveling. The racing did not disappoint. Matt Kenseth won the NNS race and after a fuel mileage ending Coca-Cola 600, Kevin Harvick claimed the checkered flag. Who fell in and out of the top 15 this week? Let's take a look ...
Camping World Truck Series:
There was no race this week but due to a rule infraction from the No. 33 team of Ron Hornaday Jr., the top few points positions have changed.
1. Cole Whitt
2. Johnny Sauter -1
3. Matt Crafton -17
4. Austin Dillion -20
5. Ron Hornaday Jr. -28
6. Timothy Peters -35
Up next: O'Reilly Auto Parts 250 from Kansas Speedway, Saturday, June 4, at 2 p.m. ET on SPEED
Nationwide Series:
The points battle is closer than ever with the top three drivers separated by only two points. Sadler (10th), Stenhouse Jr. (4th) and Sorenson (5th) all had strong runs at Charlotte securing their positions atop the leaderboard for another week.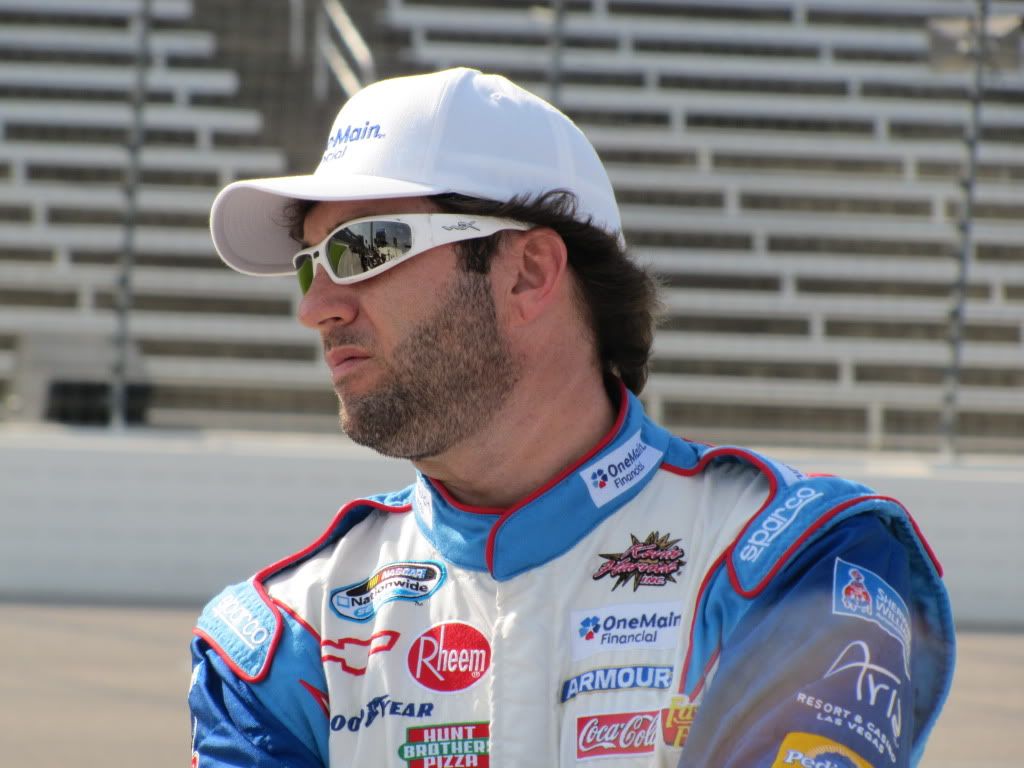 Credit: Debbie Ross for Skirts and Scuffs
1. Elliott Sadler
2. Ricky Stenhouse Jr. -1
3. Reed Sorenson -2
4. Justin Allgaier -22
5. Aric Almirola -51
6. Jason Leffler -54
7. Kenny Wallace -73
8. Steven Wallace -100
9. Brian Scott -113
10. Josh Wise -136
11. Michael Annett -141
12. Joe Nemechek -158
13. Mike Bliss -159
14. Jeremy Clements -177
15. Mike Bliss -178
Biggest Movers/Biggest Losses: All gains and losses this week were either +/- 1
Up next: The Inaugural STP 300 from Chicagoland Speedway, Saturday, June 4, at 8 p.m. ET on ESPN
Sprint Cup:
The Coca-Cola 600, the longest and most physically demanding race of the year came, down to the dreaded fuel mileage. JR Nation should be proud of the showing Dale Jr. had throughout the race. Carl Edwards now has his largest points lead to date after Jimmie Johnson had some difficulties and Kevin Harvick's win jumps him into second.
Credit: Debbie Ross for Skirts and Scuffs
1. Carl Edwards
2. Kevin Harvick -36
3. Jimmie Johnson -37
4. Dale Earnhardt Jr. -43
5. Kyle Busch -53
6. Kurt Busch -68
7. Matt Kenseth -71
8. Clint Bowyer -80
9. Tony Stewart -89
10. Ryan Newman -92
11. Greg Biffle -102
12. Denny Hamlin -106
13. A.J. Allmendinger -110
14. Mark Martin -111
15. Juan Pablo Montoya -116
Biggest Movers: Kevin Harvick, Kurt Busch and A.J. Allmendinger +3
Biggest Losses: Ryan Newman and Mark Martin -3, Kyle Busch -2
Up Next: STP 400 from Kansas Speedway on Sunday, June 5, at 1 p.m. EST on FOX
Amanda takes NASCAR seriously and is willing to pass up other activities to watch the boys have at it. NASCAR By the Numbers and In the Rearview Mirror (looking back at NASCAR's history) are Amanda's two main focuses with Skirts and Scuffs, but as an Associate Editor her duties are limitless. Amanda also frequently writes the post-race recaps for Skirts and Scuffs. Feel free to contact Amanda via
Twitter
.