WIN Series Interview: Miss Sprint Cup - Kim Coon
WIN Series Presents: Kim Coon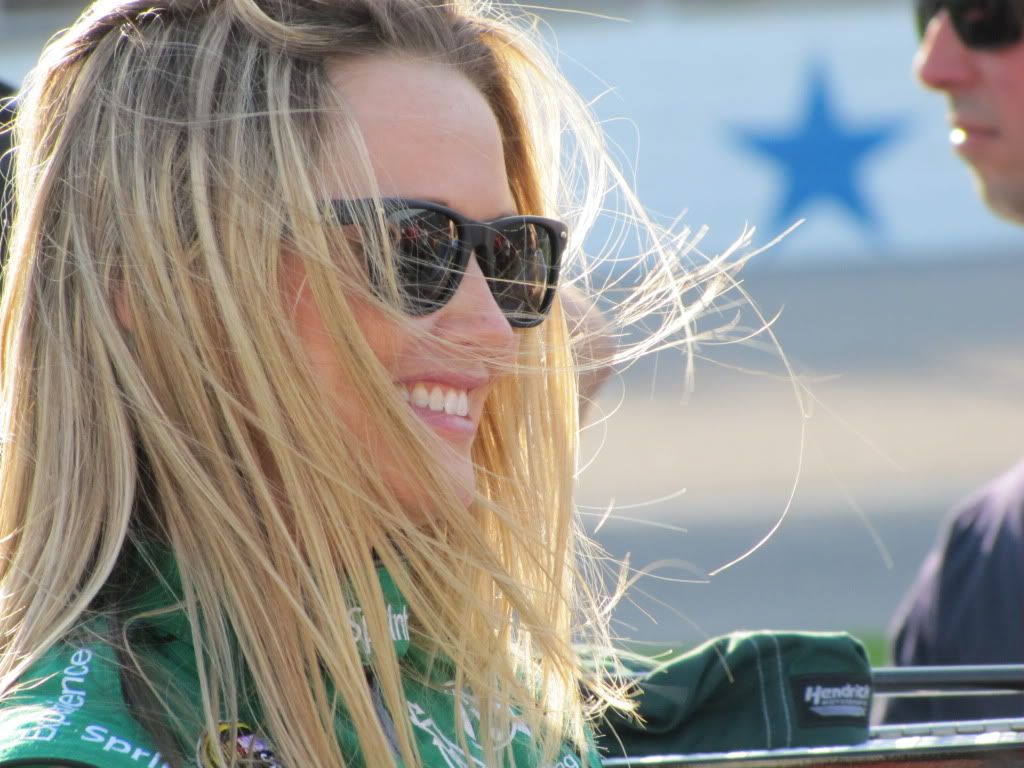 Credit: Debbie Ross for Skirts and Scuffs




The year 2011 brought us a new points system, a new improved Cup car and a new Miss Sprint Cup, Kim Coon. The "spunky" Orlando, Florida, native was introduced to NASCAR fans and supporters at none other than Whisky River in Charlotte, North Carolina. As you may know, Whisky River is owned and operated by NASCAR's 2010 Most Popular Driver, Dale Earnhardt Jr.
Along with Kim Coon, are Paige Duke (returning for her second season) and Monica Palumbo (who returned for her 4th season). You can read more about Monica in my interview with her last year :

Women in NASCAR All -Star Edition.

Background

Kim was born in Winter Park, Florida, and then raised in Orlando, Florida, living there until she left for college. She attended Miami University, graduating with a major in broadcasting. She also was on the university's dance team. After moving back home and spending time at Fox Sports, Kim went on and attended the University of Alabama, where she majored in Advertising, PR and Marketing. Integrated Marketing and Communications was the official title, but it's just all of these rolled into one with the same goals in mind.





Lindi Bess (LB): Were you involved in sports or clubs while in school?

Kim Coon (KC):

Yes, I was active in sports. I played softball and ran track and field. I was also on the dance team. I also took painting classes while growing up from 2nd grade through 12th.


LB: What were your aspirations when you were growing up?
KC: Looking back, I probably wasn't thinking about broadcasting until high school. Probably the typical little kid things. I wanted to be an artist for a really long time, so that's why I took the painting classes and art lessons until I was 20. When I went to college I really didn't want to take art because you are graded on your work, I just liked doing it for the love of it as opposed to doing it for a job.

LB: Were you active in any sports during college?
KC: Yes I had a great experience down there. I got see a lot of great football games from the field as well as basketball games. Definitely a great experience.



LB: So in going for the Marketing, PR, and Advertising, was this what you aspired to do as you were growing up?
KC:

Yes, I thought I originally wanted to go into sports broadcasting

,

which is ironic considering I'm doing what I'm doing now and I liked it. Then I took an internship in my senior year with a PR firm called Terry Heinz and they represented major motion picture houses. So I was doing publicity, promotions and PR for places like DreamWorks Pictures and Sony. I got to work on "Madagascar," and some of the Harry Potter movies and a bunch of films doing publicity and promotions.

LB: Did you have any mentors or role models at that time?

KC:

Probably my parents, because they are both very hardworking people and humble, not to mention very generous. They have taught me everything I know.




LB: Was your family involved in sports, NASCAR or otherwise?
KC:

No, my family is big on sports so they liked going to sporting events and watching sports on TV. My sisters and I went to huge division 1 schools and sports were big at those colleges.

NASCAR; my dad watches it here and there. He and his friends like to follow some of the racers. Just not all of them. I've not been a fan since I was really little.


LB: When did you start following NASCAR? KC:

I got into NASCAR about 7 years or so ago. I had a friend in college who was a huge fan and he probably was the one who got me interested in it. (I didn't know anything about it.) I began to learn more about it, it's not just left hand turns. There is a whole science around it. It's really a huge sport with all the engineers crew chiefs, pit crews and the strategies. I became more interested in it. I'm really not the die-hard fan. I'm not interested in any one driver. I just like to follow the sport as a whole, because it's interesting and the dynamics of how it all works together.


LB: What was your first experience at the track prior to your Miss Sprint Cup work? KC:

I got to go to the Pepsi 400 at Daytona in 2005. I was working for FOX Sports Network in Florida at the time. So in between undergrad and grad school. They gave me passes for the pits and garages and I got to drive around the track. That was my real first NASCAR experience where I could really understand.





Becoming Miss Sprint Cup:


LB: What's your favorite thing about being a Miss Sprint Cup? KC:

My favorite thing about being Miss Sprint Cup is traveling all over and seeing different parts of the country. Meeting fans from everywhere and all walks of life. It's so incredible the following that NASCAR has. When we were in Daytona, there were fans from Canada, from West Coast and from Australia and the UK. It was just really cool to see fans that passionate about a sport that they'll travel that far, putting in the time and the energy to follow it.

LB: Is there a negative to your job?

KC:

Actually there is no negative so far. Honestly, I'll have to get back to you on that. Maybe get back to me in mid-summer when I'm in a firesuit and its 99 degrees outside. That could possibly be a negative. (laughing) Otherwise everything has been positive so far.



LB: What about living out of a suitcase or missing your family?
KC:

I always miss my family, I live in Charlotte and they are in Florida. That's a given with or without the job. Traveling keeps me busy and stimulated. My dad was a pilot and my mom was a flight attendant so I really don't mind the traveling at all.




LB: What made you decide to apply for this job?
KC:

I didn't know this was an actual job until I researched it some more . I was somewhat familiar having seen Miss Sprint Cup in Victory Lane but then I researched and realized she does so much more. Things like fan relations, and driver interviews, and interacting in the pits and the garage. Its really a marketing and PR type job so that kind of was part of the reason I decided to apply for it. It really brings into play my degrees in Broadcasting and PR. When I cheered in the NFL, my favorite part of that job was interacting with the fans and making their game day that much better. Getting them excited! I find all of that with this job. So it's just a combination of things I love and everything I studied all wrapped into one.



LB: How do you stay in shape?
KC:

I work out regularly. I run, which is my main source of exercise. I take dance classes when I have time. Running however is my favorite thing because it clears your head, and it's good exercise.



LB: What's been your most memorable experience thus far?
KC:

Probably that I got to do a ride along in Daytona in the Richard Petty Experience. I didn't get to drive but I did sit in the passenger seat. We got up to 165 mph. Which you don't get to do that often especially on a track. It gives you some much more of the drivers point of view. Being out there with maybe one or two cars on the track not even going near the 200 mph that they go sometimes. Picturing 43 of them out there inches apart driving for hours on end. So that was a really cool experience to even get a taste of what the drivers do on a weekly basis.

I'd recommend it to anyone if they get a chance to do it.



LB: Words of advice for someone who wants to be a future Miss Sprint Cup?
KC:

You definitely need to have a positive attitude because your days can be long, but they are very fun. You have to know how to socialize with people from all walks of life. In addition, I would just have to say if you set a goal or have a dream, just work at it and don't give up until you meet it. Be it a Miss Sprint Cup Girl or anything else.



LB: In your visits to Victory Lane, what has been your most memorable so far?
KC:

I think the Bristol race was the most memorable. It was the first of the season and Kyle won. He had swept again and it was his 5th consecutive win at that track in terms of Truck, NNS and Cup. They call it the Chocolate Victory Lane because not only are they throwing champagne and confetti, they are throwing M&Ms as well. Kyle also had a broom sense he'd swept to help clean up the mess. He was definitely excited.


LB: Do you think social media plays a positive role in NASCAR?
KC:

Oh yeah, we're in the garage and we're doing fun things for the fans with the drivers and they get to see things they don't normally see. The things that regular media doesn't get a chance to touch on, especially giving you all the inside scoops.



LB: I know you aren't allowed to have a "favorite," but have you met any of the drivers that have just floored you?
KC:

No, I don't really get star-struck with any of them. I just excited for them. I get to research them and come up with questions, finding out more about them. It's important in this position that you don't get star-struck. You're not letting the fan in you get in the way of your job. NASCAR is like a big family so you see the drivers out there every weekend anyway.




LB: Do you have a most memorable Interview up to this point?


KC: Juan Pablo Montoya was very funny, and he tells it like it is. I got the chance to interview Brian Vickers at the Red Bull Interview Station in Texas. Such a good feel and great vibe, very easy and laid back.

LB: If you had a choice to sit down with someone past or present, who would that be?
KC: I'll say someone in the past, probably Dale Earnhardt because he's such a legend. It would be such a memorable interview. Just to meet and talk with him..he'd be at the top of my list.

LB: Have you had a unique fan encounter?
KC:

There are just a lot of great fans out there, period. I've spent a lot of my time in the Sprint Experience since they're at every track. Fans come out and see championship trophies and such. So that brings all sorts of fans out there. There were some really cool fans in Texas in mohawks, they were Jimmie Johnson fans. One guy has a literal mohawk in blue, another has it shaved where there should be one. He's call No-Hawk. They're just super fun, which is what the sport is all about.





LB: What was your time on "The Bachelor" like?
KC:

It was an experience like no other. I went into it realistically knowing I wouldn't find the love of my life. I was going into in to meet new people and make good friends and experience things I wouldn't on a daily basis. I got out of it just what I wanted, having made some great friends through the process. I got to do things I wouldn't have the opportunity to otherwise. I personally had a positive experience.



LB: What did you think of Brad? Was he someone you could have fallen in love with?
KC:

I didn't find that I had strong feelings for him. Maybe because of the short time I was there or we just weren't meant for one another. But it wasn't a lot of drama.



LB: Do you feel the changes NASCAR is making appropriate changes for the sport?
KC:

Absolutely. The goal is to make the sport better. In term of competition and how the fans experience it. So myself and the entire Sprint Cup program are entirely in support of NASCAR and the decisions they make. Knowing that they are doing it to better the sport and better the experience.

Kim's Favorites What do you do to relax?

I like to run, and music

Do you have a happy place?

Running

Any hobbies?

I like to dance, paint, read, and travel


Food:

Sushi


Music:

Across the Plays, anything Punk rock


Movie:

Jurassic Park


Time of day:

Evening when things are calm


Designer:

None



Are you seeing anyone?

No, I'm a single girl







Miss Sprint Cup can be found on
Facebook
and also on
Twitter @MissSprintCup
where you can see exclusive behind the scenes pictures and interviews from Kim, Monica and Paige.
WIN Series Interview: Miss Sprint Cup - Kim Coon
Reviewed by
Lindi Bess
on
Saturday, May 21, 2011
Rating: