In the Rearview Mirror: Tim Richmond, Gone Too Soon
It has been 22 years since the passing of Tim Richmond but the legacy he left on the sport of NASCAR is everlasting. In memorial, I look back In the Rearview Mirror at the career of Tim Richmond.
The story of Tim Richmond was unlike that of most NASCAR drivers. Richmond grew up in Ohio and the child of a wealthy family, breaking the mold of the typical gritty NASCAR stories you hear. He did not grow up tuning cars and fixing up heaps of junk for the fun of it; he did not aspire to follow in the footsteps on the legends like Fireball Roberts, Red Byron or even the Flock brothers. Richmond did not even have an interest in racing until the age of 21, after taking a ride in a friend's Sprint car. The rush of adrenaline hooked Richmond, and his daredevil ways (Richmond sought out the thrills of speedboat, airplanes and motorcycles) had found a new passion.
After starting his career in IndyCar, Tim Richmond was persuaded by Dr. Joseph Mattioli, Pocono Raceway founder and owner, to give NASCAR a try. Richmond made his NASCAR debut at Pocono, racing in the Coca-Cola 500 on July 27, 1980, finishing 12th in a D. K. Ulrich-owned Chevrolet. The remainder of the season, Richmond competed in five more races. The final five races included two DNFs (did not finish) and three 12th place finishes. Overall, he finished the 1980 season 41st in points.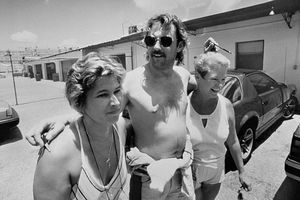 Credit: Getty Images
Richmond's success in NASCAR showered him with attention; women flocked to him and the stars of Hollywood befriended him. Richmond was often seen with a woman on each arm. Fans were divided at first - you either loved or loathed Richmond and his flashy style. It was said that the girls loved Richmond, the cool guys did as well, but the blue collar man who is the typical race fan never understood Richmond, although that man's wife or girlfriend sure did.
Often described as flamboyant off track, Richmond was all business on the track. In 1986, the career of Richmond saw an all new level of excellence after being signed with Rick Hendrick to drive the No. 25 Folgers sponsored Chevrolet. Teaming with veteran crew chief Harry Hyde, the duo hit their stride mid-season with their first win coming at Pocono. From then on out, Richmond went on to win a total of seven races that season and finished third in the points, standing behind winner Dale Earnhardt.
Richmond fell ill following the Championship banquet in 1986 and he was unable to begin racing in the 1987 season. It was disclosed that he was suffering from double pneumonia, but media outlets leaked that Richmond had been diagnosed with AIDS, which was denied by Richmond at the time. He was able to race for a few final races in the 1987 season, claiming two more wins. His final wins came in back to back races at Pocono and Riverside, setting the stage for an emotional victory lane celebration. After the win at Pocono, Richmond said, "I had tears in my eyes when I took the checkered flag. Then every time anyone congratulated me, I started bawling again." Just a short time later, Richmond resigned from Hendrick Motorsports.
Richmond later withdrew from the spotlight and became secluded in his Florida condo. On Aug. 13, 1989, at the young age of 34, Tim Richmond passed away from what was later confirmed to be AIDS. Following his death, his family held a press conference to end speculation: Tim had AIDS and the source was an unknown woman partner. Dr. David Dodson, Richmond's personal physician, said, "There's no way of knowing who that woman was. Tim was a celebrity with a lot of charisma, a handsome guy. He naturally attracted a lot of women."
Richmond's legacy in NASCAR is everlasting. He was one of the first NASCAR drivers to be treated like a modern day rock star, similar to the drivers of today. His driving prowess also garnered multiple awards including:
Named one of the 50 Greatest NASCAR Drivers of all time

2002 International Motorsports Hall of Fame Inductee
Films have also been made to document the life and times of Tim Richmond. The famous movie Days of Thunder is a loose adaptation of his career. ESPN also produced a special called: Tim Richmond: To the Limits for their series 30 for 30.
NASCAR By the Numbers and In the Rearview Mirror (looking back at NASCAR's history) are Amanda's two weekly columns with Skirts and Scuffs, but as an Associate Editor her duties are limitless. Amanda also strives to provide exclusive interviews for the readers of Skirts and Scuffs. To read her past columns and interviews click

here..

Feel free to contact Amanda via

Twitter

.
In the Rearview Mirror: Tim Richmond, Gone Too Soon
Reviewed by
Unknown
on
Wednesday, August 17, 2011
Rating: