Why I Love NASCAR: Kevin Harvick
The twelfth and final Chaser is a subject who I am irrevocably tied to because of fate. Right or wrong, like him or hate him, cheer him or boo him, this driver will always hold a special place to me because of his catapult into the limelight and his subsequent actions on the track. Like with most fandoms, it is not an easily explained connection or passion. There are reasons that make perfect sense in one's head, but when explained the words fail and drift off into the ether. One man's demise was another man's greatest opportunity. Ladies and gentlemen, the last driver of the 2011 Chase left to be chronicled, Kevin Harvick.
After Dale Earnhardt died shock reigned. Waves of grieve washed over his many fans including myself. The days after the Daytona 500 in 2001 were a blur of endless tears, disbelief, and heart-wrenching sorrow. As the week wore on the question was raised what would happen to Richard Childress' No. 3 team. Would they stop racing? Would NASCAR hold a race at all? But, of course, NASCAR would and so would RCR's Dale Earnhardt No. 3 team. Racing, you see, is what these boys do. Despite tragic accidents, untimely deaths, and grieving, racing is what they love and what heals them. Kevin Harvick, an RCR driver in the Busch series, was put in the car renumbered No. 29 with an inverted paint scheme and generic uniforms for the pit crew. He raced in Rockingham and Las Vegas, the second and third races after Daytona. On March 11, 2001 Kevin Harvick strapped on the No. 29 RCR team for only his third time to compete in the Cracker Barrel Old Country Store 500 in Atlanta. Kevin and Dale Earnhardt's victory that day did much to help make the healing process begin. Emotions were still plainly raw as Chocolate Myers' unabashed and uncontrollable tears upon winning would attest, but Kevin Harvick showed poise and respect after he beat Jeff Gordon to the checkered flag by six one thousandth of a second (.006). During Harvick's burnout celebration, he instantly held three fingers outside the driver's window while he ran the track backwards as a show of honor and respect. There was not a dry eye to be found on any NASCAR fan I knew of that day.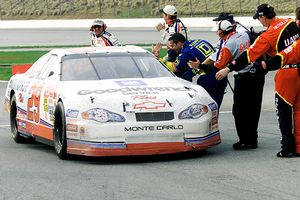 Credit: Getty Images
The 2001 season would hold another victory for Harvick in Chicago. Harvick not only brought home Rookie of the Year honors for 2001, but he also finished ninth in points after not competing in the Daytona 500 as well as a Busch Championship! This feat marked the first time a driver had won the Busch Championship while driving a full Cup schedule and coming in the Top 10 in points in that series. Harvick seemed to have the same type of spark Dale Earnhardt had when he won Rookie of the Year honors in 1979 and then went on to win his first Cup in 1980.
Harvick isn't Dale Earnhardt, he is his own man and his own kind of driver. There was no follow up championship the year after the Rookie of the Year was won. Harvick, in fact, is still seeking his first Sprint Cup after 10 years in the circuit. He's been cited as a hot head, a punk, and an incredibly talented driver. He's been nicknamed "Happy" for his belligerent ways at times and, more recently, "The Closer" for the way he would win races after nearly the entire race off of anyone's radar. He is, like Dale Earnhardt before him, a polarizing figure in NASCAR. What Kevin Harvick did, however, is create a reputation and career for himself despite the way he started out in Earnhardt's unfillable shoes. Harvick's wife is vital to his life and career like Dale and Teresa Earnhardt, he's created his own winning teams in the lesser series of NASCAR, and he's shown his sense of humor more recently when he was roasted and his fellow drivers, peers, and even his wife poked fun at him. Even Harvick's rivalries and fights with others in the garage and on the track, including this year's media spectacle Kyle Busch, add to his dimension.
Last season Kevin Harvick seemed to be the one to take the crown away from Jimmie Johnson. He and Denny Hamlin were running extremely well and, although Denny Hamlin had more wins, Harvick's entire season was consistently stellar. But the Chase points system worked to the disadvantage of these drivers and Jimmie Johnson took home the Cup for a fifth time. In 2011 Kevin Harvick seemed poised to win. He chalked up 4 wins, 9 Top 5s, and 18 Top 10s and held a very determined and focused position for the entire season. With only one race left to go it seems plainly obvious that this is yet another year in a long line of ones Kevin Harvick will not be at the lead table in Las Vegas come December. In 6 out of 11 seasons Harvick has been in the Cup series he has finished tenth or better. It seems only natural that he will find the winning formula before long and win his first NASCAR Sprint Cup. In the meantime, I enjoy watching Harvick win races, lose his temper, flash his dazzling mega-watt smile, dress like his wife, and remind me of yet another reason I love NASCAR.



Chief 187 is a writer, columnist, and blogger as well as creator of the widely popular Chief 187 Chatter. Her column "Why I Love NASCAR" and other articles are featured on Skirts and Scuffs. She can be reached via Twitter by following @Chief187s. To find out more please visit http://Chief187.com.
Why I Love NASCAR: Kevin Harvick
Reviewed by
Chief 187
on
Monday, November 14, 2011
Rating: