Construction for Talladega Transformation product beginning Oct. 21, 2018.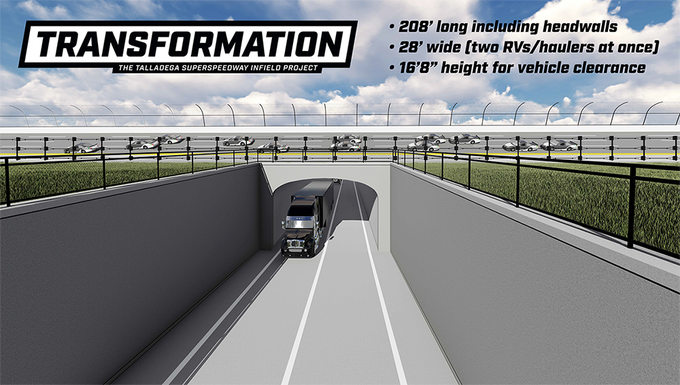 Credit: Talladega Super Speedway
by Courtney Horn
Talladega Super Speedway and the International Speedway Corporation announced on Sunday, October 14, 2018 that the construction for it's new infield project will start on October 21st – just days after the Monster Energy NASCAR Cup Series playoff event.
The construction project that they have titled
Transformation
will feature a new Turn 3 Oversized Tunnel. The tunnel will be two lanes, have a height of 16 feet and eight inches, a width of 28 feet, and a length of 208 feet – approximately allowing vehicles the size of race haulers to enter and exit.
The new project will cost $50 million and is expected to be complete by the fall NASCAR events in 2019.
"This new tunnel is certain to be one of the most popular elements of our
Transformation
project, serving both our competitors and our fans," Talladega Super Speedway chairman Grant Lynch said, "Traffic flow will be greatly improved, enhancing the race weekend experience for thousands who visit our famed facility each year."
In addition to the announcement of the new fan experience, Talladega Super Speedway announced that Creek Enterprises, Inc has been named the first "Transformation Partner" of the "We Transformed Talladega SuperSpeedway" lineup.
"We are extremely excited to partner with International Speedway Corporation and to assist with the client experience redevelopment of Talladega SuperSpeedway," said Creek Enterprise, Inc. President Jason Derby.
"Our values are a perfect match with ISC as we both focus on providing high-quality services, superior customer relationships, and services that drive business value. Like Creek Enterprise, ISC puts the customer first and works diligently to deliver a superior client experience during each and every interaction."
All other corporation announcements by the company will be announced at a later date.
Construction for Talladega Transformation product beginning Oct. 21, 2018.
Reviewed by
Anonymous
on
Sunday, October 14, 2018
Rating: