WIN Series ….Women of ESPN...
A Chat with
"T
hroughout your life you take away bits and pieces from here and there
and it always helps to form who you are today."
Nicole

Briscoe

(

Manske

) was born in July 1980 in

Wassau

, Wis. When she turned 7 her family moved to Roscoe, Ill. She graduated in 1998 from

Hononegah

High School. Nicole's parents still reside in Roscoe to this day.
In 1999, while attending Northern Illinois University, Nicole began her career reporting for an NBC affiliate in

Rockville

, Ill. Getting experience in other areas such as anchoring the weather, weekend news and producing. Nicole also worked for a CBS affiliate in 2001 in Fort Wayne, Ind., as a news reporter and a fill-in anchor for WANE-TV.
In 2004 Nicole moved to Indiana and was introduced to

motorsports

while working for WISH-TV, a CBS affiliate. She covered

motorsports

as well as basketball in her first position as an on-air reporter. She also spent time in as a pit-reporter for the Indy 500 and the Brickyard 400 and the IndyCar Series for Indianapolis Motor Speedway Radio Network.
It was on to SPEED in 2006 as the co-host of a

motorsports

news program for about two years. In 2008 Nicole began with ESPN, where she currently hosting ESPN's daily news and information show,

NASCAR

Now. Along with these duties, Nicole goes out on assignment as both reporter and host for ESPN covering

NASCAR

events. She has also been seen on occasion hosting the

NASCAR

Countdown for some race telecasts.
We also know her as the wife of Australian driver, Ryan
Briscoe
, for Team
Penske
in the IZOD
IndyCar
Series.
Briscoe
finished the 2009 season in third place in the standings after recording three wins and four poles.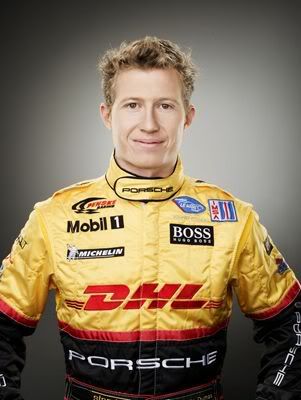 They married Dec. 19, 2009 in a romantic
cliffside
ceremony in Hawaii, exchanging vows under an incredible Hawaiian sunset as the backdrop. (Aside from its beauty, Hawaii was chosen as it is the halfway point between the couple's friends and families.)
After exchanging vows, the couple invited 100 of their family and friends to a reception that included a dinner beach side. Following dinner they all joined together and celebrated with an after-party in a club-like atmosphere. Other festivities included an ice cream sundae bar, as well as a 12-foot ice martini bar.
What were your aspirations as a young girl?
For the most part I always wanted to do what I am doing now. When I was little I remember wanting to be a marine biologist because that meant I could play with
Shamu
all day.
During the first Gulf War, I was 11, and I was captivated by the CNN coverage. I remember sitting down as I watched the news with Tom Brokaw, who at the time was my guy. I wanted to know what was going on and I wanted information. My parents did what they could to explain to me. They actually said to me at the time that maybe that's something you'd like to do. I think at the point the idea was planted in my head. I was so engrossed by the whole idea of staying up on current events. As I got older my family became really involved in football. I swear to you that they probably would bleed green and gold as they are such huge Green Bay Packer fans.
So many of my weekends when I was growing up were spent at my grandparents or my aunt's house or they would come to our house. The whole family would get together for the Packers games. I think when I started to get older I wanted to be involved in
sports because of my love of the NFL.
Who inspired you most as a young woman?
My parents, honestly. I'm so lucky to have an awesome set of parents. Every kid should be able to say that. My mom and dad have always been there for me as a team. Whether I wanted to talk about where my life was going, or if I wanted confide something that was major or something that was small, throughout my life I'
ve
always had that backing. That really solid foundation and for me its always started there. I'
ve
been inspired and I'
ve
looked up to other people along the way, but for me it started with my parents.
Would say that the teen pageants helped you in your career?
That's always been difficult for me to talk about because I think of the way they are perceived today. I think that when I was involved and the couple that I did, it was different. Right now if you look on TLC, you'
ve
got Toddlers and Tiaras and what I did
wasn
't that at all. So when I answer this question, please keep that in mind.
In a way it did, because it did teach me to be able to talk on my feet and to be comfortable in a kind of question-and-answer situation and stage presence. Also something too, since the time I was 3 or 4 my parents enrolled me in dance because I was the most uncoordinated child that they'd ever seen.
So I think it was a combination of that. Throughout your life you take away bits and pieces from here and there and it always helps to form who you are today. So it'd be hard to say when looking at those things that they had no impact. Although it
wasn
't huge, it did a little bit.."
Note: in 1998, Nicole won the Miss Illinois Teen USA. She went on to compete in Miss Teen USA and became a semi-finalist, with a eighth-place finish overall. In 2001 she competed in the Miss Illinois USA Pageant, although she

didn

't win the title, she place as first runner-up.

Would you say ESPN is your dream job?
Yes. It's an amazing company. The foundation and what the company believes in. It's just an amazing company. They believe in family, and have all the resources to make you better. But if you're going to be involved in sports broadcasting, don't you want to work for the company that does it the right way? And is among best. So yes, for me it is a dream job.
As much as sometimes you get tired of the travel or it wears you out, at the end of the day you have to sit back and think I am really quite lucky.
Did it take some time to move up to where you are now?
Yes, it's like any other job, it takes time and effort. Sometimes it takes sacrifices and I am still sacrificing now to be able to do what I am doing. But it's like with anything, if you want to be good at something and you want to be a part of something, it does take that effort. I haven't lived near my family since I was 21, so
that's
pretty much the last nine years. I'
ve
missed out on a lot of holidays, family time and things like that. But for the most part, it's been a great ride.
Do you have any future goals?
I think I'
ve
gotten to a point in my life where I like what I'm doing. I'd like to continue building and get better and see where it takes me. But I think that the majority of the things that matter to me now are not necessarily work goals. It's the stuff in my life that makes me happy: my family, my husband. That's the stuff you focus on as you get older because at the end of the day what makes you happy is probably not your job. For me I want to have kids maybe. Please, no, not right now.
What was your first

NASCAR

assignment?
My first
NASCAR
assignment was probably back in 2004 when I was working for the CBS affiliate in Indianapolis and if I remember that was back when they had actual testing. It was in June I think when they had a tire test, it was an open test. That was the very first thing I did with
NASCAR
. I covered the test at Indianapolis. Then I covered the Brickyard 400 in August.
Do you see any female drivers moving up to Cup?
I sure hope so. I think the point is that when I was younger, I
didn
't see those bursts of opportunities, but I was talking to Lyn St. James a few months ago. She was saying that when she works on the things that she does, she tries to help with the diversity and the women who are coming up the ranks. But now she
doesn
't have to go out and find them anymore. The girls are there. They're interested. There have been people that have come along and opened doors, that have have brought women in racing to the forefront. But now there are girls that are coming forward and I don't think it's IF, I think it's a matter of time before more talented people come along. Now I think it's really important for the ones that do break through, they do have to have the talent and the ability to compete against the boys. Now we're at the point we have to look for success out on the track. It's not just getting there, it's getting there and having success."
What are your thoughts on

NASCAR

's "have at it boys" style of racing?
I think there is a fine line; I think it's the way you interpret "have at it." Does "have at it" mean that on the
restrictor
plates that they are not regulating the bump drafting, and that sort of thing. Professionally I struggle with the retaliation on the track and when drivers go out on the track to take another driver out. I think there is a safety issue I worry about there. I'm happy to see that it's not being totally allowed in all situations. But I think if we get to see more personality out of the drivers that that is good. That idea of "have at it" showing emotion and personality, that's good.
How does the interaction with fans and the reporting aspect differ between

NASCAR

and the IndyCar Series?
I think it's much easier in the IndyCar Series than in
NASCAR
. I think that in part the IndyCar Series is trying to build back up again. They make their drivers available for autograph sessions. They have mandatory autograph sessions. So it's seeming more accessible. But
NASCAR
is SO BIG! Like my parents have been to many more IndyCar races because of our personal connection to it than they'
ve
been to Cup races. They were with me in
Daytona
in July. It was really interesting to see it through my mom's eyes because she was like, wow this is kind of like a carnival, like a party. You don't have that sort of atmosphere on the Indy side of racing."
Do you have any favorites for the Chase this year that you want to share?
I can't share that with you. I do think that going into every race there are 12 drivers that honestly have the potential to not just win a race, but to go on a run to a win a few races. Like Jimmie Johnson has done, and Denny Hamlin did this year. So many have that potential this year. Jeff Burton, he's due. Greg
Biffle
has broken through to Victory Lane and he's said he felt that he was ready. I think that it's going to get interesting to see if Jimmie Johnson and that #48 crew is able to do what they'
ve
done in the past. Flip a switch when it comes to the Chase or is it going to be a tighter situation this year with some of the other guys. They may be saving their best until the end. If you watch over the past couple of years, the 48's dominance has really changed the way that other teams approach the season. They gear up for the Chase almost immediately within the first 26 races. Kind of testing in a way, instead of focusing just on the last 10 races. So it will be interesting to see what happens.
Do you have a favorite or memorable interview?
Yes, the President of the United States. I got to go to the White House last year, when the White House brought in NASCAR and the drivers. We were given the opportunity to do NASCAR Now from the South Lawn of the White House. President Obama joined us for a segment. It's gonna be a long time before anything tops that, with all due respect to the drivers out there.
I've chosen to start the question-and-answer portion of this interview with a question that was asked of President Obama on the day mentioned above. I felt it was interesting and important to acknowledge how NASCAR fits in the bigger picture.
Q - Why was this something that

NASCAR

and the White House decided to do? (Regarding the ceremony to honor

NASCAR

drivers, past and present.)
A - President Obama -
NASCAR
is a quintessential American sport. I think that it's fan base is now worldwide, but when you think about it's roots, when you think about all the people who have such an attachment to the drivers, and when you think about the fact that right now the U.S. auto industry is going through a tough time, we wanted to make sure we highlight the fact that this is a great sport, is a great brand for not just
NASCAR
itself but also for America, and we thought it was a great opportunity to celebrate some champions.
Nicole relaxes with her dog, Sammy.
What do you like to do to relax?
I have turned into a total homebody. That's one thing that this job has done to me. I travel
a lot
. I don't live in Connecticut, so when I host the show I have to fly up there and spend the week in a hotel. Then we travel to the races. It's like 200 days that we are on the road and away from home. So when I get time off I am seriously a homebody. I
love
to spend time at home. We are lucky that we live on a lake and our backyard is our own little private paradise. We spend
a lot
of time outside. We go boating, I like to cook and experiment in the kitchen. I think that's fun. Recently, my girlfriend talked me in to doing a half marathon in December so I have to train for that. That's not relaxing, it's more like I can't let them down. I need to do this.
Nicole and husband Ryan hit the river to relax.
How did you and Ryan, your husband meet?
He was working for Target/Chip
Ganasse
's racing team based in Indianapolis. I was working for the CBS affiliate in Indianapolis. But I was also working for the
IMS
Radio Network. Basically we met through work. We met in 2005. We were friends for a year before we began dating. We kind of got lucky that our lives came together.
A Hawaiian wedding?? Is it as romantic as it sounds?
Yes, it was really awesome. Hawaii made it possible for much more of our family to be able to get there for the wedding. We had about 100 people, family and close friends that were able to make the trip. The wedding was AWESOME! It was fun. We made it not just a day thing, we made it over the course of a week. We had a welcome party for everyone on a Wednesday. My mom and dad and his had met before but we had a lot of family and friends that hadn't met each other. So they were able to meet each other early in the week. So by the time we actually got to the wedding on Saturday, everyone kind of knew each other and became comfortable with each other. So it turned into a big fun night.
Do you have theory behind the
baby boom
in the garage?
I don't know but I'm not drinking the water. I think it's funny because you look around and there are a lot of drivers that came in around the same time and same age. Sadler's 35, Jimmie's 34, they're all getting to a point where they are ready for that. I think Jimmie Johnson even said when we first came in we were talking about girls, then getting married and now we're talking about babies. It's a progression of life. My mom said the same thing. I said to her "Oh my God, another driver is having a baby and this is a driver that worked with my husband." Her mom said, "Nicole, you are 30 and people do start to have babies around then." Both of our parents are like waiting for grandkids.
Who wears the firesuit in your family?
(Laughs) It depends on who you ask and when you ask. He literally wears it sometime. It's pretty even. I'd like to say that I do. But I think that the distance, the job and the traveling I do, we do have a way of doing things. There is a lot of delegating in our lives. A lot of teamwork. He helps me and I help him, but just for the sake of it, I'm gonna say I wear it. It's a really cute firesuit, too."
Nicole and Ryan fishing during their honeymoon.
Photos furnished by ESPN and Nicole Briscoe and are not for duplication. Skirts and Scuffs and Lindi Bess have expressed consent for use.

I'd like to thank Nicole Briscoe for opening up to me and allowing the followers of Skirts and Scuffs into her life.
The views expressed in this post are those of the author and not necessarily those of the site or its administrators.
WIN Series ….Women of ESPN...
Reviewed by
Lindi Bess
on
Monday, October 04, 2010
Rating: